Thursday, January 31, 2008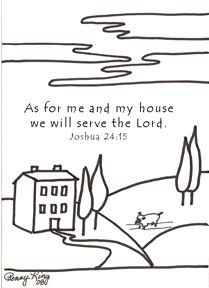 Posted by

Penny @ Miss Pootsie's Primitives
at 9:20 AM
No comments:

Hello & Pleasant Thursday to you all! Today it's COLD and there's SNOW coming... AGAIN.

I'm just beginning to make (but will eventually sell!) Primitive/Folk Art Stitchery Patterns. They are based on the dolls and paintings I have sold in the past. Every one of them has a scripture. I thought it might be nice to SHARE one of them with the Prim Community.

Above you will see a "pic" of the stitchery pattern. Feel free to "snag" it and make it any size you'd like. I believe all you have to do is right click, and save to your computer.

If you do decide to make a stitchery from my pattern, I WOULD LOVE IT IF YOU WOULD SHARE IT WITH ME. Just post a comment to that effect, I will email you, and when you respond you could send a photo of what you made as an attachment. I would gladly display it on my blog!!! I might even use your photo when I start selling them, to show in the listing as an "example".

God Bless you all today and Come back soon!!!
Posted by

Penny @ Miss Pootsie's Primitives
at 9:13 AM
1 comment:

Tuesday, January 29, 2008
I thought I'd share my newest creations with you all. God has DEFINITELY led me in a different direction. I had been knee deep in some nice, but very detailed and formal type dolls, like The Timekeepers. I was making the paperclay heads, feet, etc. I love making those...but God had different ideas for me.
For i know the plans i have for you, says the Lord...they are plans for good and not disaster, to give you a future and a hope.

Jeremiah 29:11
Right after Christmas I was worried. My sales were at an all time low, and I wasn't the only one. It seems that our eBay was in a recession and we artisans were feeling the crunch. Everyone has had the same problems and complaints. I began to really, earnestly seek God's guidance about what He wanted for my future. The scripture above replayed itself over and over in my head and heart. I felt like I should just cruise the listings... that's what I call it when I look FOREVER at all the new prim listings and all the lovely things I cannot afford...LOL. Anyway.. I was just looking and PRAYING. I started noticing that the only things that were consistently being bid on were the extreme primitive dolls. Well.. there were (and still are) a very few who have a collector base who were still getting the high dollars, but in general....it was the extreme prims.
I tried my hand at a few last year, but lost interest fast. I thought, "Ok Lord, if that's what you're trying to tell me... I CAN DO THAT!" Since I have switched to the extreme prims for the majority of my listings I have had two RECORD SALES weeks in a row. PRAISE THE LORD!! I just needed to STOP, PRAY, and wait to hear from Him.
Have a lovely evening and God Bless!
Penny
Posted by

Penny @ Miss Pootsie's Primitives
at 5:05 PM
1 comment: